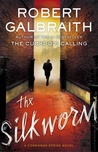 The Silkworm by Robert Galbraith
My rating: 5 of 5 stars
I bought this book after enjoying the first in the series and this is more of the same. Whilst not quite as good as the first as the first book, this book follows a similar formula with a high profile murder and lots of twists and turns.
Although we are familiar with the characters, Galbraith manages to weave more information about them and their lives into the narrative of the story. The story crafting is good and I found it easy to visualise the characters from the detailed description and attention to detail.
As with the previous book, this is an adults only book with the occasional piece of strong language (thrown in to make a point?). However the pace of the story and the twists and plot developments held me until the end.
I look forward to reading the next in the series!